http://en.wikipedia.org/wiki/Walter_Mosley
http://en.wikipedia.org/wiki/Ezekiel_%22Easy%22_Rawlins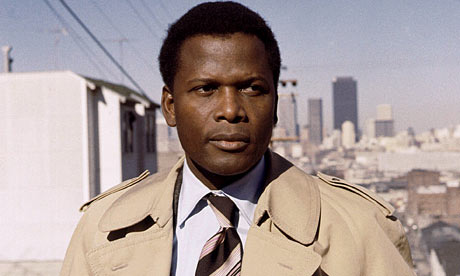 Two men, Sidney Poitier and Harry Belafonte, changed the situation of black actors the world over when they became Hollywood stars in the 1950s, liberating African-Americans from subservient roles as Uncle Toms and comic servants. Both were tall and handsome, born in the States but raised in poverty in the British West Indies, home of their fathers. They returned to America as teenagers, emerged from wartime military service to study acting in New York, and become political activists. The more influential of the two was to be Poitier, who became a star in his first film, No Way Out (1950).
The role that truly put him on the map was that of the high-school student who rallies an unruly class to back idealistic teacher Glenn Ford in Blackboard Jungle (1955), and he got an Oscar nomination three years later as an escaped convict manacled to racist redneck Tony Curtis in the deep south in The Defiant Ones.
The 1960s, the decade of the civil-rights movement, were to be his decisive moment when he had a hit movie every year and won an Oscar (the first black actor in a leading role to do so) in the sentimental Lilies of the Field (1963) as an odd-job man assisting some East German nuns in Arizona. He peaked in 1967 with three major successes – as the idealistic teacher in a London school in To Sir With Love; as Virgil Tibbs, the proud homicide cop from Pennsylvania, treading on toes in Mississippi in the thriller In the Heat of the Night; and the brilliant doctor, brought home to meet his fiancée's liberal parents in Guess Who's Coming to Dinner?
Virtually all his roles were figures of reason and dignity, like his priest inCry the Beloved Country (1951), and his cameo as Simon of Cyrene inThe Greatest Story Ever Told (1965). He prepared the way for actors such as James Earl Jones, Danny Glover, Richard Pryor, Eddie Murphy, Morgan Freeman and Will Smith to play more varied characters and take charge of their careers.
He became the natural choice to narrate documentaries on Paul Robeson, Martin Luther King and Ralph Bunche, and to impersonate Nelson Mandela in the 1997 made-for-TV film Mandela and de Klerk. Last month, Barack Obama presented him with the Presidential Medal of Freedom, America's highest civilian honour. No doubt Obama remembered, as many others did when he received the presidential nomination at the 2008 Democratic convention, the scene in Guess Who's Coming to Dinner? when Spencer Tracy raises some awkward questions with Poitier, his prospective son-in-law, who prophetically had met his fiancée in Hawaii. Of Tracy's daughter's attitude to their future family, Poitier remarks: "She feels all of our children will be presidents of the United States with very colourful administrations… I think your daughter's a little over-optimistic, I'd settle for secretary of state."
Commonwealth Honours Poitier, holder of the KBE is, as a citizen of the Bahamas, entitled to call himself Sir Sidney.
Diplomacy Poitier is the Ambassador of the Bahamas to Japan and to UNESCO.
Six Degrees of Separation John Guare's screenplay is based on the true story of a young conman who convinced wealthy New York liberals that he was Poitier's son. Poitier has six daughters but no son.
Essential DVDs Blackboard Jungle, The Defiant Ones, Lilies of the Field, In the Heat of the Night, Guess Who's Coming to Dinner?
– http://www.theguardian.com/film/2009/dec/22/sidney-poitier-screen-legend